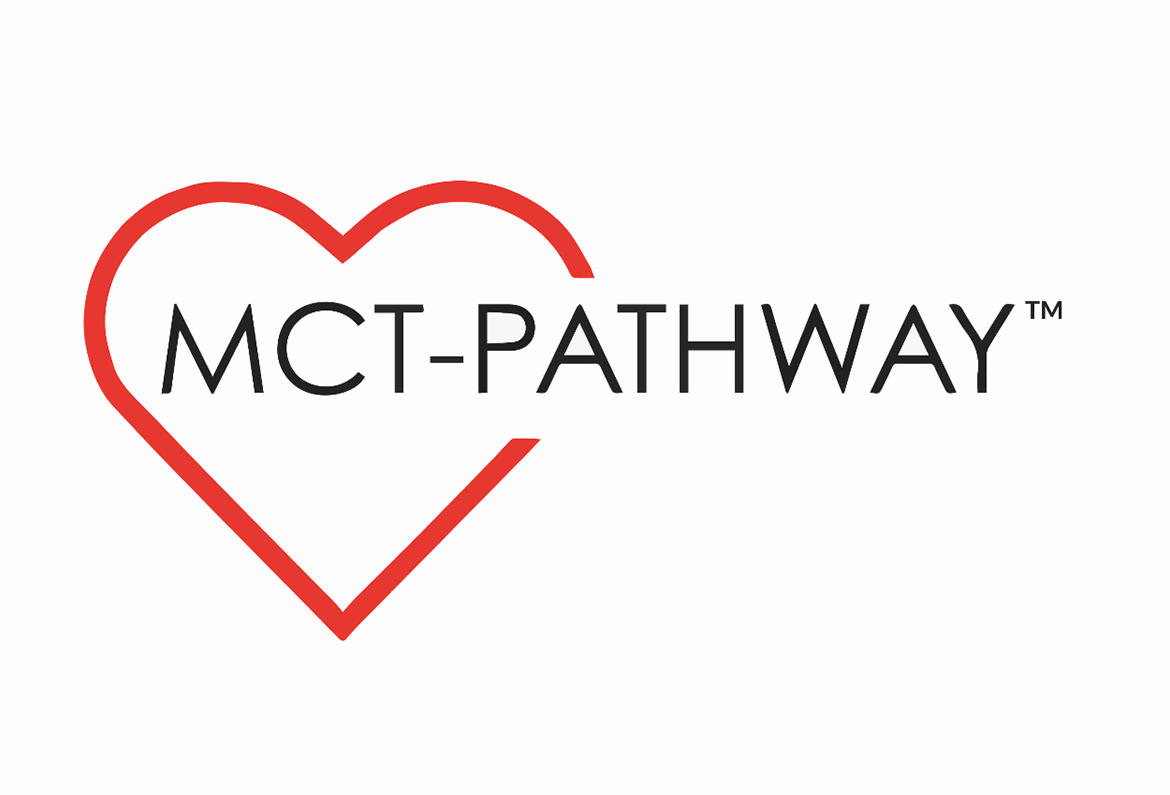 NEW TREATMENT SIGNIFICANTLY IMPROVES MENTAL HEALTH IN HEART DISEASE PATIENTS, STUDY FINDS
A study, led by Greater Manchester Mental Health NHS Foundation Trust (GMMH) and the University of Manchester (UoM), and funded by the National Institute for Healthcare Research (NIHR), has found that a mental health treatment called Metacognitive Therapy significantly improves symptoms of anxiety and depression for heart disease patients. These findings, published today in the American Heart Association journal, Circulation, are a huge step towards better informed and well-rounded care for heart disease patients, with the potential to improve not only mental health, but also the physical health of those recovering from heart disease. Cardiac rehabilitation (CR) services aim to improve heart disease patients' health and quality of life and reduce the risk of further problems with their heart. Around 90,000 patients attend CR every year in the UK.
After a serious cardiac event, such as a heart attack, it is common to develop mental health problems; and around one-third of patients accessing CR services experience anxiety and/or depression. Research shows that this type of distress reduces quality of life and increases the risk of further heart problems and even death. Whilst CR services do have an educational component and an exercise component, they don't currently include any specific mental health treatment to support patients with symptoms of anxiety and depression. Added to this, mainstream mental health treatments, such as Cognitive Behavioural Therapy (CBT), are not very effective at improving the mental health of heart disease patients. One of the reasons for this is that CBT focuses on challenging negative thoughts and beliefs, which can be completely valid and realistic in people suffering from chronic and life-threatening heart conditions. In response to this, Professor Adrian Wells, Consultant Clinical Psychologist at GMMH and Professor of Clinical and Experimental Psychopathology at UoM, who had developed a mental health treatment called Metacognitive Therapy (MCT), adapted this treatment for cardiac patients.
MCT helps people to manage worries and low mood through reducing unhelpful styles of thinking, such as rumination (dwelling on the past) and worry (concerns about the future). It helps people to discover new and more helpful ways to react to negative or distressing thoughts, so they are less likely to dwell on them, resulting in improved anxiety and mood. The PATHWAY study evaluated the effectiveness of delivering MCT, alongside normal CR services, in treating symptoms of anxiety and depression in heart disease patients, in comparison to just receiving normal CR services alone. Half of the 332 participants were randomly allocated to MCT plus standard CR treatment, and the other half were allocated to the standard CR. For those who were allocated to MCT, the therapy was embedded into their regular CR, and delivered by CR staff such as CR nurses, occupational therapists, and physiotherapists. This took place at Manchester University NHS Foundation Trust, East Cheshire NHS Trust, Stockport NHS Foundation Trust and Pennine Acute Hospitals NHS Trust. Findings showed for the first time ever that MCT plus CR is significantly more effective in improving symptoms of anxiety and depression in heart disease patients. It also proved to be more effective in helping patients reduce unhelpful thinking patterns and trauma symptoms.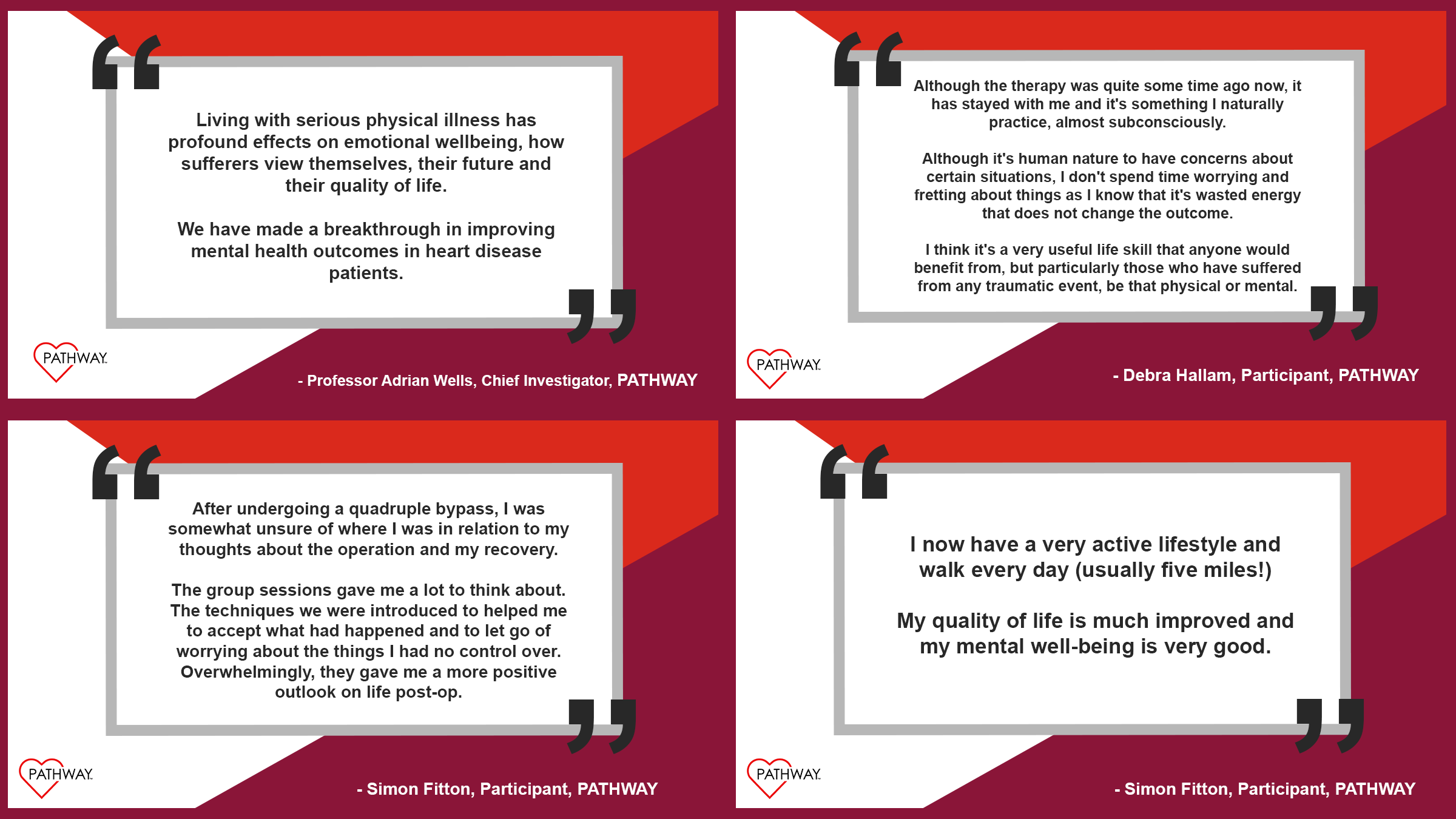 DEBRA WAS REFERRED TO GROUP METACOGNITIVE THERAPY, FOLLOWING OPEN HEART SURGERY. SHE SAID:
The event presented talks from the chief investigator Prof Adrian Wells and co-applicants, Professor Patrick Doherty and Professor David Reeves, and a panel session with PATHWAY therapy practitioner Jenny Aindow, PATHWAY participant Simon Fitton and PATHWAY PPI member Marie Holmes.  The event was a success, attracting attendees from around the world and the PATHWAY team is pleased to announce the recording of the event is now available to view here.
I found the MCT to be very interesting, informative and beneficial. It's not a type of therapy I had experienced before; it was a very gentle and subtle therapy that, over several weeks, slowly changed my attitudes and beliefs around worrying and fretting. "It was very interesting and useful to hear how people's beliefs changed over the weeks. To see the differences at the end was quite impressive. "Although the therapy was quite some time ago, it has stayed with me and it's something I naturally practice now, almost subconsciously.
Although it's human nature to have concerns about certain situations, I don't spend time worrying and fretting about things as I know that it's wasted energy that does not change the outcome. "I think it's a very useful life skill that anyone would benefit from, but particularly those who have suffered from any traumatic event, be that physical or mental and those that suffer with anxiety." Effectiveness of the therapy was measured with the Hospital Anxiety and Depression Scale (HADS). The HADS questionnaire is often used to determine the levels of anxiety and depression in a person with physical health problems, using a scale of 0 to 21 for both anxiety and depression. A score of 0-7 is considered normal, with 8-10 being borderline, and 11 or over indicating clinical anxiety or depression. The 163 individuals who were randomly allocated to MCT plus standard CR treatment showed a significant average decrease in their HADS score for anxiety and depression of 3.24 after 4 months and 2.19 after 12 months. This compares to the 169 who only received standard CR treatment, who had an average decrease of 0.52 after 4 months and 0.33 after 12 months. Overall, there was an improvement in the mental health of one in three heart patients who received MCT alongside standard CR treatment, in comparison to only one in five of those who received standard CR treatment. A further finding was that MCT appeared to prevent some patients from developing mental health problems.  The link between mental and physical health has long been known, and these findings signal a major step in understanding and improving the overall recovery of heart disease patients. Professor Adrian Wells, PATHWAY Chief Investigator said, "Living with serious physical illness has profound effects on emotional wellbeing, how sufferers view themselves, their future and their quality of life. "Through the generous time of patients, staff, co-investigators and service users, we have made a breakthrough in improving mental health outcomes in heart disease patients. Metacognitive therapy offers an effective way of treating both anxiety and depression. We found that heart patients benefitted no matter whether they had mild or severe symptoms or a previous history of mental health issues, supporting the versatility of this treatment. We have demonstrated that MCT can be translated to medical settings and this opens up the way for more effective integrated physical and mental health care with the potential to improve thousands of people's lives." Paula Bithell, Nurse Consultant at Pennine Acute NHS Hospitals Trust said: "For some patients the psychological impact of being diagnosed with a heart condition can be just as significant as the physical implications.
"MCT is a method to address the thoughts patients may have following their cardiac event in a familiar environment, in a group setting with patients who are experiencing similar thoughts and feelings to themselves. It is delivered by their recognised health care professionals who are experienced in cardiac care. "My colleagues and I found that patients benefited hugely from the group therapy, with patients reporting that attending the group MCT supported them in overcoming the psychological barriers that were preventing them from resuming normal activities. "Following the treatment, patients reported feeling more confident to go out and socialise again, resume hobbies and employment." Professor Kathryn Abel, NIHR Clinical Research Network National Specialty Lead for Mental Health and Domain Lead for Mental Health at NIHR Clinical Research Network Greater Manchester, said: "Findings from this research are incredibly encouraging and present the first evidence that a psychological treatment may both prevent development of common mental disorder in cardiovascular disease as well as be effective in reducing psychological symptoms once developed in cardiac patients recovering from heart disease. Understanding the links between mental and physical disorders is an incredibly important aspect of the research endeavour for the NIHR mental health specialty and a priority for the Medical Research Council (MRC) Mental Health Research Framework.
I would like to thank all the study participants and research team members who have made this research possible." Notes for Editors: Professor Adrian Wells is available for comment. You can read the full report here. This project is a partnership between Greater Manchester Mental Health NHS Foundation Trust, The University of Manchester, University of York, The University of Liverpool, Manchester University NHS Foundation Trust, East Cheshire NHS Trust, Stockport NHS Foundation Trust, Pennine Acute Hospitals NHS Trust and the National Institute for Health Research. Greater Manchester Mental Health NHS Foundation Trust (GMMH) provides community and specialist inpatient mental health and substance misuse services across Greater Manchester and the Wider North. GMMH is also one of the leading mental health and dementia research trusts in the UK.
Working with service users and those with lived experience as part of their core infrastructure, GMMH has ten dedicated Research Units which support continued growth in areas of expertise, which include: Psychosis; Dementia; Complex Trauma and Resilience; Youth Mental Health; Digital; Suicide, Risk and Safety; Specialist Perinatal; Mental Health Nursing; Psychological Therapies for Anxiety and Depression; and Equality, Diversity and Inclusion.
The University of Manchester, a member of the prestigious Russell Group, is one of the UK's largest single-site university with more than 40,000 students – including more than 10,000 from overseas. It is consistently ranked among the world's elite for graduate employability. The University is also one of the country's major research institutions, rated fifth in the UK in terms of 'research power' (REF 2014). World-class research is carried out across a diverse range of fields including cancer, advanced materials, global inequalities, energy and industrial biotechnology. The National Institute for Health Research (NIHR) is the nation's largest funder of health and care research.
The NIHR: Funds, supports and delivers high quality research that benefits the NHS, public health and social care. Engages and involves patients, carers and the public in order to improve the reach, quality and impact of research. Attracts, trains and supports the best researchers to tackle the complex health and care challenges of the future. Invests in world-class infrastructure and a skilled delivery workforce to translate discoveries into improved treatments and services. Partners with other public funders, charities and industry to maximise the value of research to patients and the economy For media enquiries, contact the press office on 0161 358 1644 or email communications@gmmh.nhs.uk.