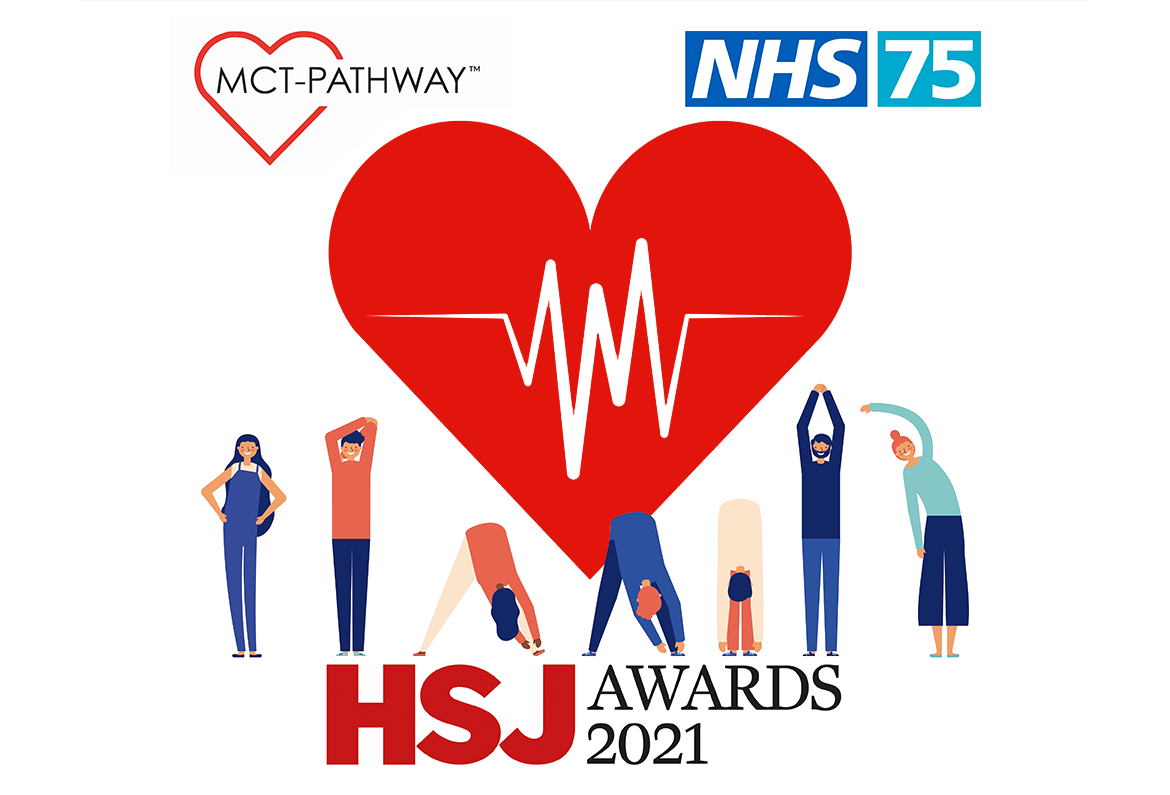 Greater Manchester Mental Health NHS Foundation Trust (GMMH) and The University of Manchester (UoM) are delighted to announce that MCT-PATHWAY and PATHWAY Beacons, led by Professor Adrian Wells, has been shortlisted for Mental Health Innovation of the Year at The Health Service Journal (HSJ) Awards, in recognition of their outstanding contribution to healthcare.
According to the HSJ, 'a record-breaking' 1456 entries have been received for this year's Awards, with 223 projects and individuals reaching the final shortlist, making it the biggest awards programme in the award's 43-year history. The HSJ also said that the high volume and 'exceptional quality' of applications once again mirror the impressive levels of innovation and care continually being developed within the UK's healthcare.
The MCT-PATHWAY project, supported by the National Institute for Health and Social Care Research (NIHR), aims to improve mental health in patients living with heart disease. In the UK, cardiac rehabilitation is attended by about 100,000 patients annually. MCT-PATHWAY is the first successful group-based Metacognitive Therapy (MCT) approach that may be offered alongside conventional cardiac rehabilitation (CR) in the UK. In comparison to standard care alone, adding group-MCT was found to significantly improve symptoms of anxiety and depression and halve the deterioration rate in such symptoms. This is crucial because patients with heart disease frequently experience anxiety and depression, which are not routinely treated in cardiac services and are linked to poorer health outcomes, higher mortality, greater healthcare use, and a poorer quality of life. The follow-on NIHR-funded PATHWAY-Beacons project is currently evaluating the effect of implementation and roll-out of MCT-PATHWAY in the NHS.
Without this service I don't think I would have got to where I am now. They gave me confidence that I could live my life again and feel normal, easing all the anxiety I felt after my cardiac event.

The team and I are thrilled to be shortlisted for the mental health innovation of the year award. A big thank you to the HSJ judging panel and to all our collaborators and participants whose dedicated work has improved the mental wellbeing of people living with heart disease.

Being shortlisted in the mental health innovation of the year category is a great achievement! This is a result of the research team's major commitment and diligence in developing new mental health interventions. Given the intense competition this year, which included a record number of entries from so many other Trusts and committed individuals, this recognition is even more significant to the Trust.

It always gives me great pleasure to congratulate our finalists at this stage of the judging process and this year is no exception as we acknowledge MCT-PATHWAY and PATHWAY Beacons for being shortlisted in the Mental Health Innovation of the Year category.

It's been so encouraging to hear that 2023 has been record-breaking in terms of the number of applicants and, as ever, the calibre of entries left our panel of expert judges with some tough decisions to deliberate over.

However, it's always important to remember that the HSJ Awards are not just a celebration of success stories but also a platform to shape the future of the NHS.

"We can't wait to welcome our finalists to the awards ceremony in November and to recognise and applaud such impressive achievements across the sector – as well as coming together to help mark the 75th birthday of our great NHS. Huge thanks also go to our new headline partner, Vodafone, who share our mission of driving the standard of healthcare excellence and creating better patient experiences."
The selected winners will be announced during the awards ceremony at Evolution London on November 16th 2023. The event will not only reflect the HSJ Awards' enduring ethos of "sharing best practice, improving patient outcomes and innovating drivers of better service" but will also serve as a timely and well-deserved thank you to the sector during the 75th anniversary year of the NHS.
The 2023 awards judging panel was once again made up of a diverse range of highly influential and respected figures within the healthcare community, including; Crystal Oldman, Chief Executive, Queen's Nursing Institute; Dr Habib Naqvi MBE, Chief Executive, NHS Race and Health Observatory; Anne-Marie Vine-Lott, Director of Health, Vodafone; Sir Jim Mackey, National Director of Elective Recovery, NHS England, as well as a range of esteemed Chief Executives from NHS Trusts across the UK.
The full list of nominees for the 2023 HSJ awards can be found at https://awards.hsj.co.uk/ alongside details of the Awards partners at https://awards.hsj.co.uk/partners